If you're a parent and looking for fun things to do in Kentucky with kids, then the Bluegrass state has it all.
Kentucky is a treasure trove of wonders and I've rounded up some of the most fantastic things you can do in Kentucky for kids and families of all ages.
From exploring natural landscapes to discovering fun and wild (and some weird) attractions and immersing in Kentucky's unique southern culture, there's something here for every member of the family.
If you're ready to create unforgettable memories, then keep scrolling and see what the Bluegrass state has to offer for kids and families.
Things to do in Kentucky
Kentucky Down Under
Have you ever wanted to pet a Kangaroo? Kentucky Down Under is the only place in the state of Kentucky where you can pet and feed a kangaroo.
If you've never been to the Horse Cave or Cave City area, then you are in for a treat. One of the most unique adventures and things to do in the area is Kentucky Down Under Adventure Zoo.
Kentucky Down Under is an exciting and educational animal park in Horse Cave, Kentucky, where visitors can encounter a variety of exotic animals and experience interactive adventures.
You can walk through a paved path and see many different birds, reptiles and even a wolf. There's a petting zoo where you can feed farm animals. You can even pet and feed a kangaroo. The kids will love it.
We've been to Kentucky Down Under on a few different occasions and it's pretty neat. My advice is to rent the golf cart because there is a large hill to climb.
If you're looking for an adventure zoo in Kentucky, then check out Kentucky Down Under.
Beech Bend Amusement Park
Located in Bowling Green, Kentucky, Beech Bend Amusement Park is a family friendly destination that promises an action packed adventure like no other.
From heart pounding rides that send adrenaline soaring to gentle attractions perfect for the little ones, Beech Bend offers a delightful mix of fun and excitement for visitors of all ages.
With a rich history spanning over 125 years, this amusement park has evolved into a tradition for families seeking unforgettable memories.
The campsite has over 160 paved sites for those who are camping or pulling an RV.
If you're looking for an amusement park in Kentucky that is good for kids and families, then check out Beech Bend in Bowling Green.
Ark Encounter
The Ark Encounter in Williamstown, Kentucky is one incredible experience.
Let me tell you it was nothing short of amazing when we visited a couple years ago! If you are in the Williamstown area, then it's a must see attraction.
When you step foot into this remarkable attraction, you are transported back in time to the days of Noah's Ark. The sheer size and architecture of the life-sized replica will leave you speechless.
The Ark Encounter is a place where biblical history comes to life and every moment spent exploring its wonders will feel like a journey through time.
I recommend you take a firsthand account of this captivating adventure filled with faith, history and a deep sense of wonder at the Ark Encounter!
Louisville Zoo
If you're staying in the Louisville area and looking some some local attractions to do with the kids, then I suggest you whisk away to a place where wildlife comes to life at the Louisville Zoo.
Get ready for a wild journey as this zoo is a beloved attraction that has been captivating visitors of all ages for decades.
From huge majestic elephants to playful penguins, the Louisville Zoo is home to a diverse array of fascinating creatures from all corners of the world.
If you have kids that love zoos then embark on an expedition through this large Kentucky zoo, where fun, conservation and education create a truly unique and experience.
Now it's time to grab your safari hats, sunscreen and strollers and head to the Louisville Zoo!
Cumberland Falls State Park
One of my favorite Kentucky state parks that I've visited is the famous Cumberland Falls. I've shared my review of the Cumberland Falls State Park in a recent post.
When I set my foot on the large sandstone rock, I was mesmerized by the beauty of roaring waterfall of Cumberland Falls, often referred to as the "Niagara of the South."
This state park has so much more to offer than the waterfall. From thrilling outdoor activities for the kids such as gem mining, nature walks and more, Cumberland Falls State Park is a true haven for adventure and relaxation.
If you're looking for a world famous waterfall, then check out the Cumberland Falls State Park.
Natural Bridge State Park
The Natural Bridge in Kentucky is a massive sandstone arch that spans 78 feet and rises 65 feet above the ground. This Kentucky natural wonder is one of the most iconic and recognizable features of the Red River Gorge Geological Area.
The arch was formed over millions of years through the erosion of sandstone rocks that left behind this remarkable natural rock bridge structure.
We've been to the Natural Bridge on one occasion to see the beautiful sandstone structure. It is a very long hike up some very strenuous and tough terrain. The stairs to the top are pretty eroded in some spots.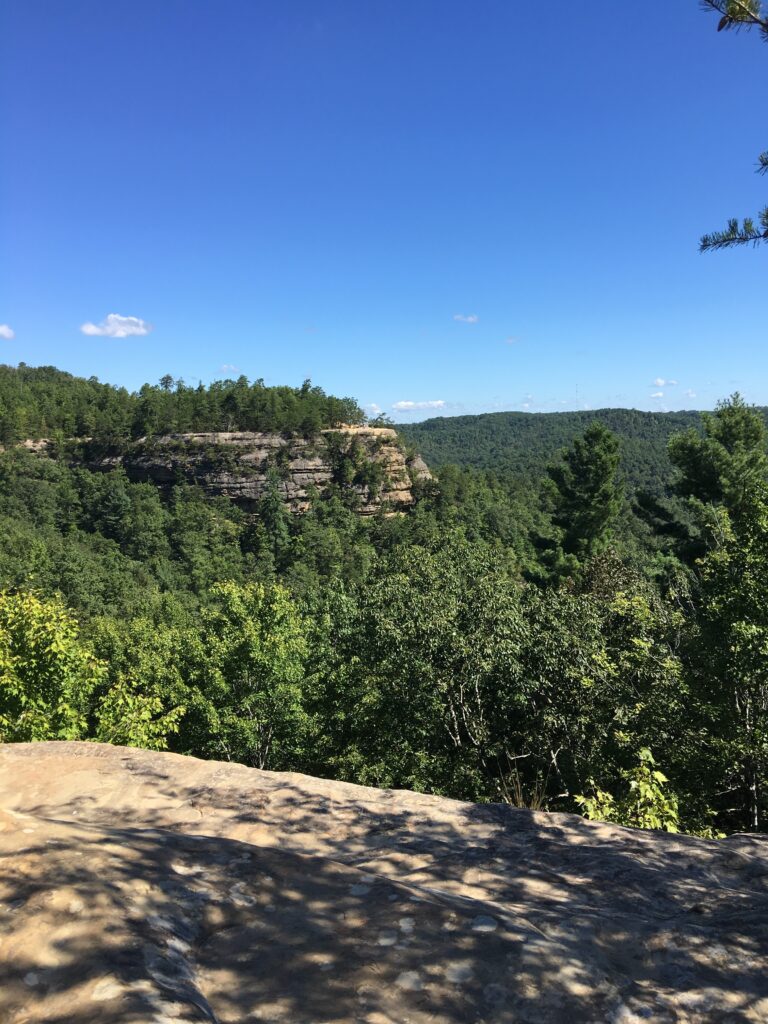 With the long uphill hike, I'd still recommend the Natural Bridge as a place to take kids in Kentucky and experience the view. We took our 2 year old on our last trip and the only time you feel uncomfortable is when you get to the top. You have to really watch your kids as they can run off the cliff easily.
It has become a popular destination for outdoor enthusiasts and nature lovers, offering breathtaking views, hiking trails and a unique opportunity to witness the amazing outdoors of Kentucky.
Kentucky Horse Park
If you're looking for a kid friendly adventure that combines nature, horses and a whole lot of excitement then you've come to the right place.
The Kentucky Horse Park is not just any ordinary park, it's a place where little imaginations run wild and young hearts are filled with joy.
From friendly horses and interactive exhibits to hands on activities and engaging shows, the Kentucky Horse Park offers a delightful experience for kids of all ages. There's trollies that ride around the whole park. There's typically a wait, but it's one of the must do things if you're at the park.
If you're in the Lexington area and looking for a kid friendly horse adventure, then check out the Kentucky Horse Park.
Mammoth Cave
One of the most famous places in Kentucky and the only national park in Kentucky is Mammoth Cave. If you have never been to see the monstrous Mammoth Cave, then you and the kids should go.
One of Kentucky's natural wonders, Mammoth Cave is full of breathtaking rock formations and fascinating history.
There are paved steps down to the historic entrance of the cave and the majority of the walkways and paths are paved throughout the cave.
It's perfect for kids and families of all ages.
Our recommendation if you have small kids is to do the Mammoth Cave Self Guided Tour. You get to enter the same large historic entrance and visit a lot of the cave without a tour guide and you get to do it at your own pace. It takes about 30-45 min to do the self guided tour.
Mammoth Cave is one of the top visited places in Kentucky and one of our favorite and most recommended places to go.
Elk & Bison Range in Land Between the Lakes
One of my favorite places in the western part of Kentucky is the Elk & Bison Prairie at Land Between the Lakes. I lived in Western Kentucky as a kid and would visit LBL frequently.
Out of all the places in LBL, the Elk & Bison Prairie Range was one of my favorites to go to.
You'll have the opportunity to witness the sight of magnificent elk and bison grazing in their natural habitat.
The best time to go to the Elk & Bison range in LBL is early morning or late afternoon. During the heat of the day, the Elk & Bison will be hidden in the shade and cooling off from the sun.
If you're looking for something to do in LBL or visiting the Kentucky and Lake Barkley area, then make sure to visit the Elk and Bison range for an unforgettable nature experience of up close wildlife.
Smothers Park
Nestled along the mighty Ohio River, Smothers Park is a world renowned park and one of the largest playgrounds in the United States. It is a gathering place that offers a blend of natural beauty with downtown Owensboro and creates a perfect place for kids to enjoy the park.
Whether you're seeking a peaceful escape surrounded by stunning river views or looking to indulge in exciting activities with your loved ones, this park has it all.
From interactive water features to captivating playgrounds, beautifully landscaped gardens and a dazzling performance stage, Smothers Park is perfect for families, friends and visitors of all ages.
Since we live in Owensboro, we are very partial to this park. It's hard to beat the scenes of a barge carrying grain down the river and allowing the kids time to waste some energy on the playground.
Where to stay in Kentucky?
Kentucky offers many different places to stay. There's unique hotels, cozy cottages and campgrounds in every county of the state.
Wigwam Village
The Wigwam Village is a unique sleeping experience built in 1937 that allows you to take a step back in time and sleep in a teepee.
For those visiting Mammoth Cave, the Wigwam Village is not too far away.
Kentucky Dam Village
Kentucky Dam Village offers many different styles of lake side cottages, hotel and camping sites.
If you are wanting to enjoy the Land Between the Lakes, then Kentucky Dam Village is a good place to stay.
Home2Suites Frankfort
Are you heading to Kentucky's capital city Frankfort? We were in the area and needed an overnight stay while visiting nearby Lexington.
The Home2Suites hotel off Versailles Road was a clean location and we felt safe with the kids.