Are you traveling to Bowling Green and looking for something to do? There's Mammoth Cave not far away, Lost River Cave, The Corvette Museum and tons of places to eat.
If you are coming this way and not sure what to do, here are the things you must do while in Bowling Green, Kentucky, as recommended by a local.
Things to do in Bowling Green, Kentucky
Visit the National Corvette Museum
What can you see at the museum
The National Corvette Museum is a must see attraction while in Bowling Green with over 80 corvettes on display. It's also the location of the infamous Corvette Museum Sink Hole that opened up February 12, 2014.
There's also the Stingray Grill onsite that offers burgers, sandwiches and salads. It's open daily from 10am – 3pm and has been been featured on Guy's All American Roadtrip TV show.
Additionally, plan a trip to the GM Bowling Green Assembly plant, where it is the only place in the world that builds the Chevrolet Corvette. It has produced over 1.1 million Corvettes since it opened in 1981.
Contact information
The National Corvette Museum is located at:
350 Corvette Drive
Bowling Green, KY 42101
The Bowling Green Assembly plant is located at:
600 Corvette Drive
Bowling Green, KY 42101
Both are located in Bowling Green, Kentucky off I-65, exit 28.
The telephone number for the museum is 270-781-7973
Guided tours are offered daily 7 days a week at 11 AM, and 1 PM CT.
For more information on visiting the museum, go to the official website: https://www.corvettemuseum.org/visit/plan-a-visit/
Take a tour of Lost River Cave
This cave is home to a variety of underground formations, including stalactites and stalagmites. It is a seven mile cave system that begins with the Lost River stream of water outside of the cave and flows into it.
Lost River Cave is a large 72 acre plot of land with hiking trails, activities and more. There is something for families of all ages to visit and do.
There's also an underground boat tour that goes into the cave system and is highly recommended if visiting the area.
Contact Information
2818 Nashville Rd
Bowling Green, KY 42101
The telephone number for Lost River Cave is 270-393-0077
Lost River Cave is open daily, here are the current hours:
Monday 8:30 AM–6:30 PM
Tuesday 8:30 AM–6:30 PM
Wednesday 8:30 AM–6:30 PM
Thursday 8:30 AM–6:30 PM
Friday 8:30 AM–6:30 PM
Saturday 8:30 AM–6:30 PM
Sunday 8:30 AM–6:30 PM
Take a day trip to Mammoth Cave National Park
Mammoth Cave is known for being the longest known cave system in the world. It is located in South Central Kentucky and only a 45 minute drive from Bowling Green. It has over 400 miles of explored passages and covers over 52,000 acres of land.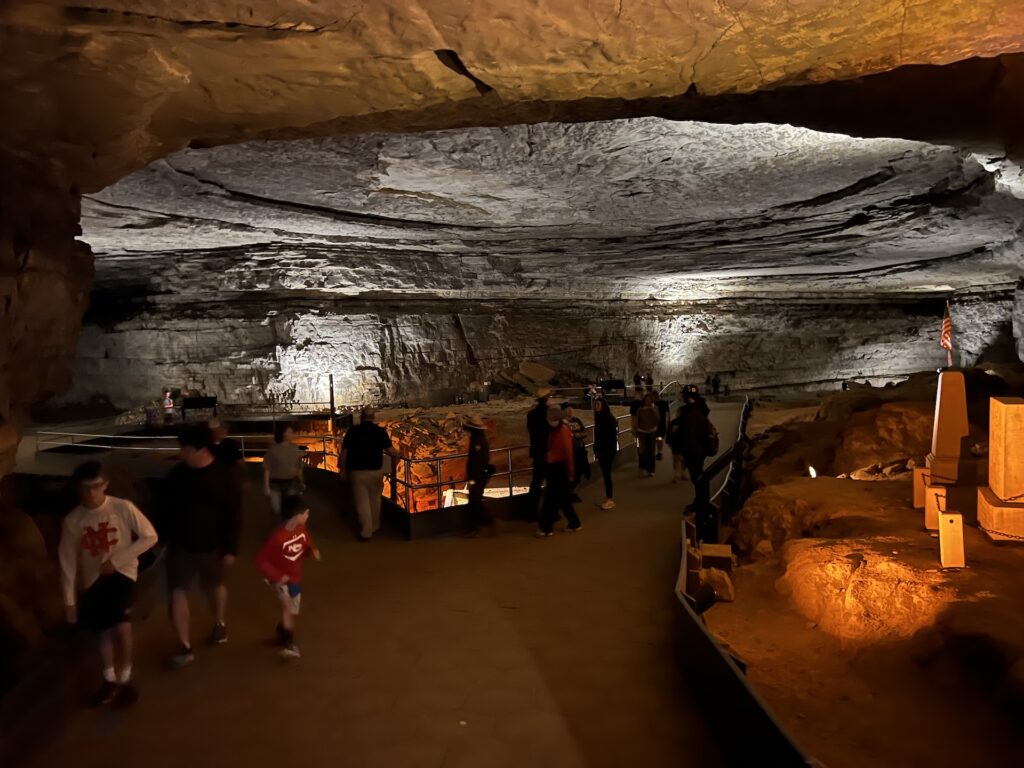 Check out our recent review of Mammoth Cave
The cave is home to a variety of plant and animal life, including some species that are found nowhere else in the world. Mammoth Cave is a large popular tourist destination in the area and offers a variety of tours and activities for visitors to enjoy such as cave tours, hiking, camping, biking and more. Anything with outdoor recreation, you can probably find it in or around Mammoth Cave.
There are plenty of hiking trails in the park, one of our favorites was Turnhole Bend Nature Trail. It's a super easy and fun trail right off Hwy 70 that is good if you have kids. You can see pretty far out when all the leaves aren't fully covering the view.
One other fun thing to do while in the Mammoth Cave area is to check out the Green River Ferry. If you've never been on a ferry before, then you should go.
It is a vehicle passenger ferry and goes across the Green River on Green River Ferry Road. Some locals use this daily to get back and forth to work.
It operates 364 days a year from 6am to 9:55pm, only closing for Christmas.
Here are a few photos of the ferry:
Contact Information
1 Mammoth Cave Parkway
Mammoth Cave, KY 42259
You can call the visitor center at 270-758-2180
Take a historic trolley tour
Get a historic tour of the city on the Bowling Green Trolley.
The trolley is a relatively new attraction in the city but it is one that first-time visitors should experience.
If you want to learn about the rich history of our city or hear about how we became a popular tourist destination and home to the Corvette, then the historic Bowling Green trolley tour will be right up your alley.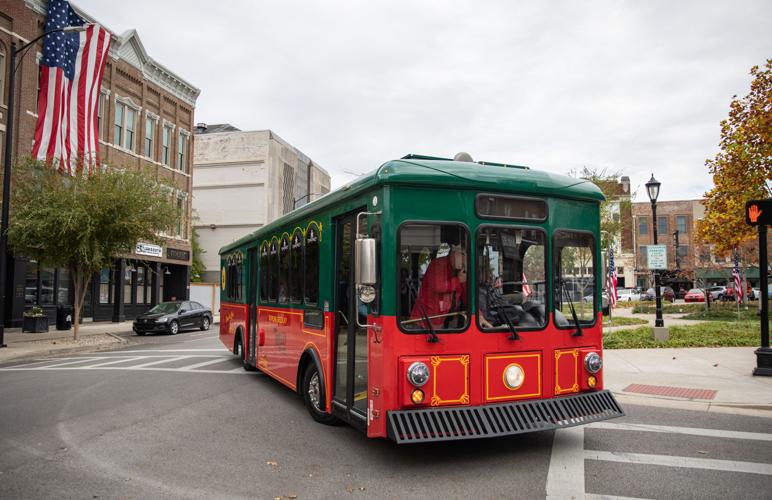 The tour runs Fridays and Saturdays at 10am, 12pm and 2pm. It will take you all through downtown on Fountain Square, Fort C.F. Smith, the Corvette Museum and more.
Contact Information
401 Kentucky Street
Bowling Green Kentucky
Visit Western Kentucky University
Western Kentucky University is one of the many public universities in the state of Kentucky. It was founded on March 21, 1906 in Bowling Green and currently has about 15k students enrolled.
Kaci and I both graduated from WKU and are big Hilltopper fans.
If you are in the area and want to check out the beautiful campus of Western Kentucky University, then we highly recommend it.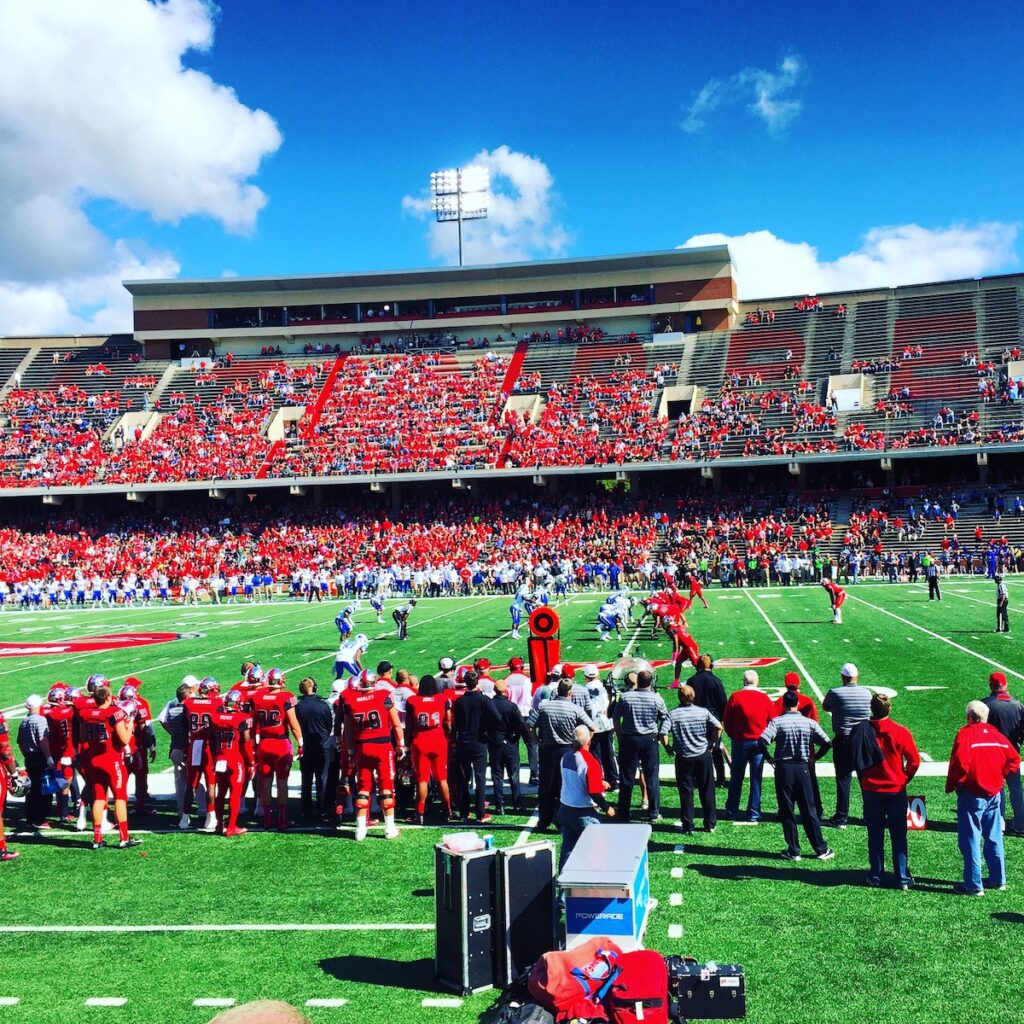 Contact information
1906 College Heights Blvd.
Bowling Green, KY 42101
The phone number for WKU is 270-745-0111
Heritage Aviation Park
Calling all plane lovers!
Heritage Aviation Park is a museum showcasing 8 restored military aircraft that have ties to local aviators. The park is free and open to the public daily.
You can see and touch real aircraft that were used in combat years ago. Get an up close and personal view of the UH-1 Huey Helicopter, Phantom 550 and a Grumman Panther.
Once you view all the planes outside, you can go inside the hangar to view a wide variety of rotating exhibits, artifacts and educational displays.
Contact information
1825 Three Springs Rd
Bowling Green, KY 42104
Beech Bend Amusement Park & Raceway
Voted as one of the friendliest parks in America, Beech Bend is an amusement park, campground, water park and drag race strip all in one. The park has been open and entertaining families since 1898.
During the summertime, the amusement and water park are open offering over 40 rides, rollercoasters, water attractions and more. You get free parking and sunscreen all day long.
Stop by and catch a race at the drag strip, one of America's oldest and continuously operated drag strips.
Beech Bend holds a lot of local and national events like NHRA and Holly Fest. If you are in town for one of the events, be prepared for a major traffic situation all throughout town.
Contact information
798 Beech Bend Road
Bowling Green Kentucky
Where to eat in Bowling Green Kentucky?
This city has a wide variety of dining options, from casual to fine dining. This would be a whole post within itself.
After living in Bowling Green for 20 years, we can provide an accurate review of the best restaurants to visit while in town.
With that said, here are some of our favorite restaurants in Bowling Green:
Raffertys
Amazing American-style restaurant that offers steaks, BBQ ribs, salads and more. If you drive down Scottsville Road, you will smell it. Kid friendly and highly recommend it.
Insider tip: Get the loaded cheese fries as the appetizer and the ribs for the main entree. You won't regret either option.
El Mazatlan
One of the quickest Mexican restaurants in town. If you're looking for a quick Mexican meal then check it out. This is one of our go to Mexican places in town.
Mex out
Mex Out has the BEST authentic Mexican food in Bowling Green, hands down. Every time we come back to town, we always hit up Mex Out. It's authentic and amazing.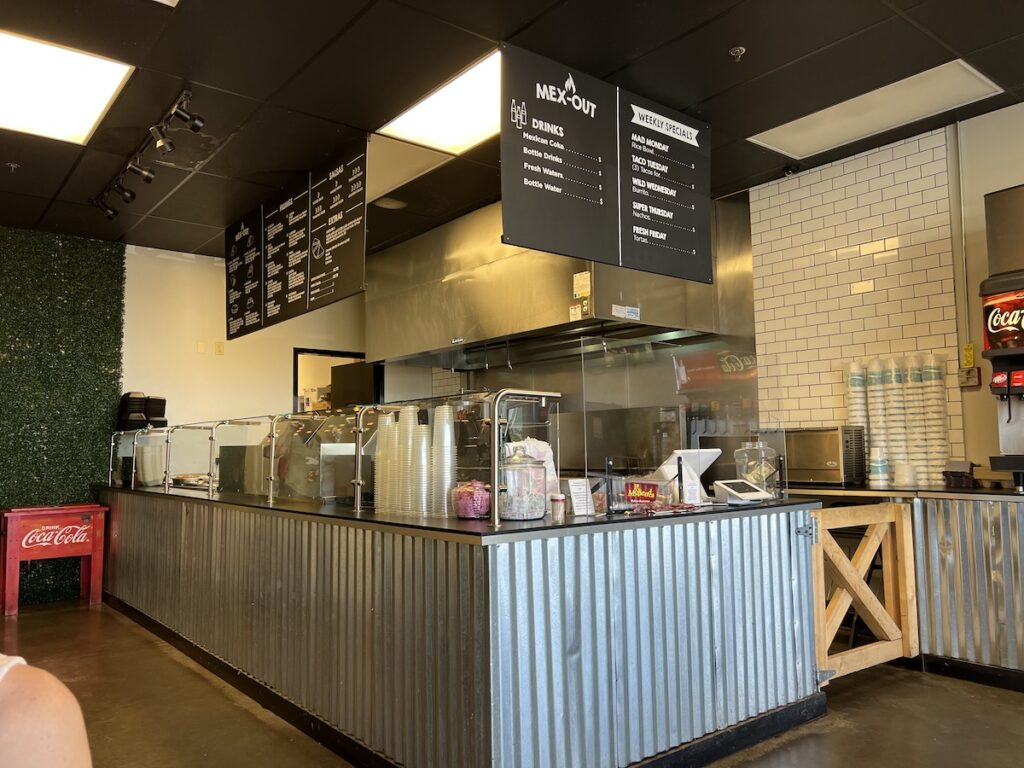 Chuy's
If you cannot tell, we love Mexican food and Chuy's is another one to add to the list. I could really go for some of those light, crispy chips dipped in creamy jalapeno right about now.
Insider tip: My personal favorite is the Big As Yo Face burrito ground beef with queso and creamy jalapeno on top.
Pub By Novo
Locally owned restaurant that offers a variety of entrees and unique flavors. The chicken and waffles with pimento cheese is my favorite.
Q
Q Coffee Emporium has the best chicken salad in town hands down. Highly recommended if you want a sandwich, pastry or coffee.
Montana Grille
If you're looking for really good steaks, seafood, pork and other grilled meats, then Montana Grille is the place to go.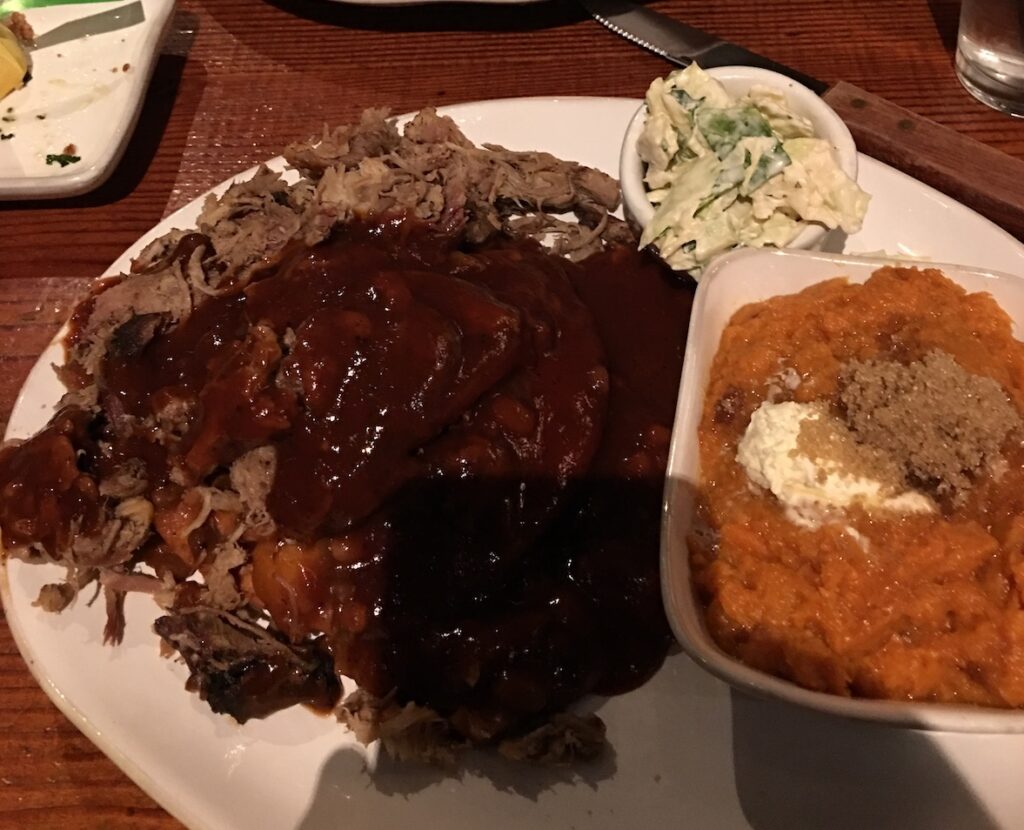 Smokey Pig BBQ
Mouth watering BBQ cooked over a wood fire pit, this Monroe County style BBQ is worth a try. Get the pork shoulder plate dipped, you won't regret it.
Conclusion
We lived in Bowling Green for over 20 years and know the ins and outs of the city. We have recently moved to Owensboro but still come back to BG often to check out some of our favorites.
These are just a few of the many things to do in Bowling Green, KY. With so much to see and do, you're sure to have a great time in the land of caves and Corvettes.
What are you favorite things to do? Did I miss anything on the list?
Be sure to share this on Pinterest to check it out again later!