Going on the cave tour has been on a bucket list of ours for awhile and we finally got a chance to make the short drive up to Cave City and experience what Mammoth Cave National Park has to offer. One of Kentucky's natural wonders, Mammoth Cave is full of breathtaking rock formations and fascinating history.
As a 30 year resident of Kentucky, I've been to Mammoth Cave National Park on a few different occasions, but have never went down into the Historic Entrance. The park has many different hiking trails, attractions and even a ferry that goes across the Green River. But I had never been into the cave….until my 30th year living in Kentucky.
There are many different tour options to choose from when visiting Mammoth Cave, however, if you have a family with younger kids like us (ours is 2 and 5), then a self guided tour might be the best option if you want to tour the cave at your own pace without a guide. Also, the self guided Discovery Tour is the exact same as the Mammoth Passage Tour, without a guide.
If you are planning a visit to Mammoth Cave National Park and want to know the best cave tour for families with kids or for tours without a guide, then keep reading about our experience to Mammoth Cave below.
Review of Mammoth Cave Tour
History and facts of Mammoth Cave
Location: South Central Kentucky
Founded: 1790 by John Houchin
Established as National Park: July 1, 1941
Park size: 52,830 acres
Cave Size: 405 miles mapped
Temperature: 54 degrees
Mammoth Cave is the world's longest cave system with over 405 miles of mapped passageways. It formed many years ago when forced water from the Green River flowed through the area, carving out the limestone to create the massive cavern system we get to experience today.
It was first discovered by Native Americans who lived in the Kentucky area around 5,000 BC. In 1790, John Houchin was a European settler who moved to the area from Virginia. He has been said to been the first in modern history to discover the cave when he settled near the Green River.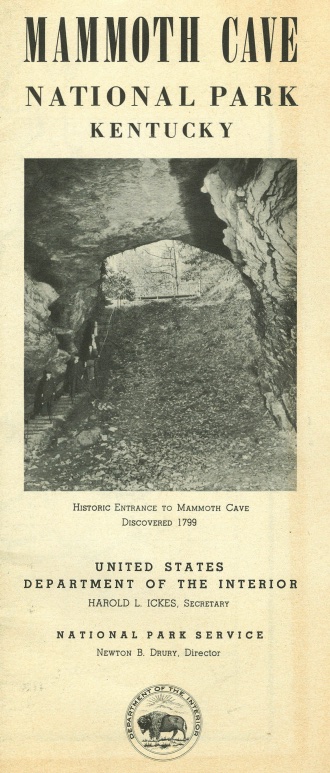 Mammoth Cave National Park lives upon one of the most well known karst topographies in the world. A karst terrain is an area where limestone has been eroded away by water and has many caves, sinkholes and underwater streams.
The park is located on nearly 53,000 acres of forest terrain and spans through three Kentucky counties of Edmonson, Hart and Barren.
The temperature of the cave is a consistent 54 degrees year round.
It was recognized as a National Park on July 1, 1941 and an International Biosphere Reserve in 1990.
For more interesting historical information on Mammoth Cave, check out the official timeline.
How to get to Mammoth Cave
Mammoth Cave is located in the Mammoth Cave National Park and is easily accessible from the interstate. Take exit 53 (Cave City) off I-65 and turn right onto Hwy 70. This will lead you directly into the park, just follow the signs to the visitor center.
Directions to Mammoth Cave:
1 Mammoth Cave Parkway
Mammoth Cave, KY 42259-0007
Phone: 270-758-2180
The Self Guided Discovery Tour
Mammoth Cave tour without a guide and the best for families with kids
If you are wanting to visit Mammoth Cave and wondering if you can enter the cave without a tour guide, the answer is yes. The Self Guided Discovery Tour is the way to visit Mammoth Cave and see it without a tour guide.
In our opinion, it's the best way to experience Mammoth Cave with kids. You can enter the cave and walk through the majority of the cave at your own pace.
Our kids are 2 and 5 and we were afraid with the guided tours, our kids might get too antsy, so that's why we opted to do the self guided tour.
You do need tickets for the self guided tour, you can book them ahead of time online or at the visitor center.
Insider tip: There is absolutely zero cell service near the Visitor Center at Mammoth Cave. It's recommended to book your tickets ahead of time. Remember, you are in the middle of nowhere Kentucky when you are visiting Mammoth Cave. Just enjoy one of Kentucky's best kept secrets!
We booked our tickets the day of our self guided tour for the 11am time slot, however, we were a little late but it was no problem getting into the cave. As long as your have a ticket, the park rangers will let you in.
As of July 2023, adult tickets were $8 and kids 5 and under were free.
In the Discovery self guided tour, you get to walk down into the same main cave entrance, called the Historic Entrance, where you enter the cave by going down 125 steps. You get to explore all the historic artifacts and read about the early history of the cave.
It's a short but fun 30 minute walk to the back of the main cave, through different turns and large open areas, you get to see a lot of what Mammoth Cave is about. It's an impressive cave and a must visit for anyone in the area.
The fully mapped passageways extend over 400 miles of underground passageways, but there are only 10 miles that are accessible to explore through the tours. There are still plenty of miles waiting to be discovered. In 2021, they found 8 new miles never before explored.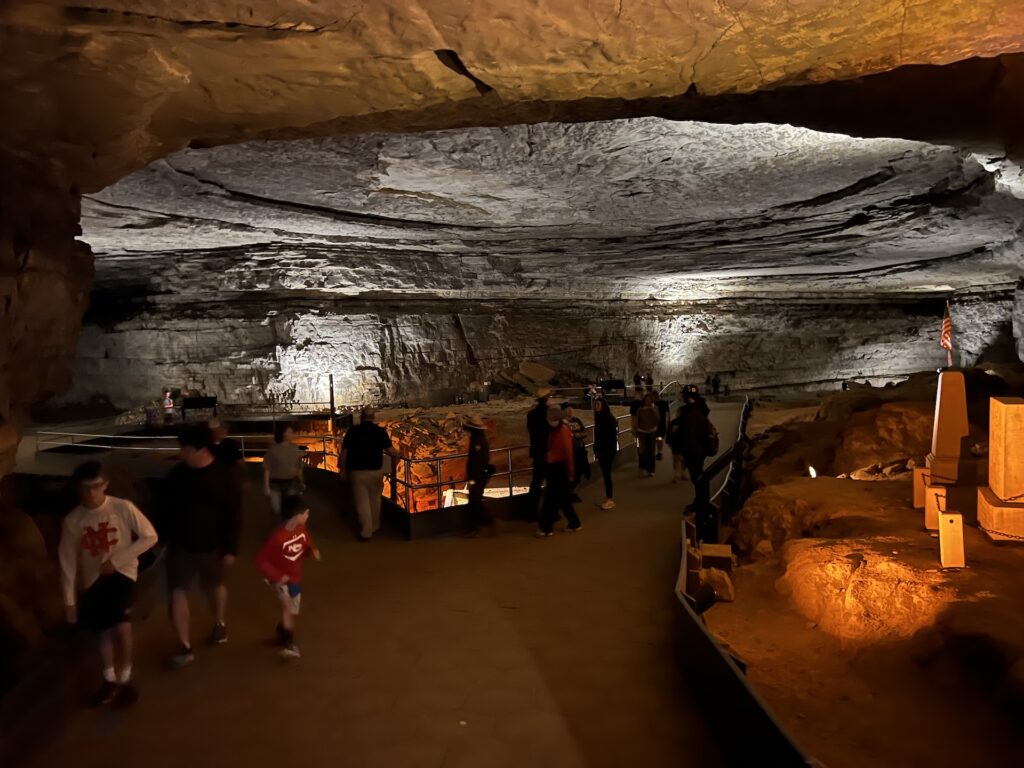 Some of the passageways have a main paved sidewalk, but there are a few that are uneven and rocky, so it's best to hold your younger kids hands in some areas.
The Self Guided Discovery Tour is the best tour for families who have kids or people who want to tour Mammoth Cave without a tour guide. It's also the same exact tour as the Mammoth Passage Tour but without the guide.
Gist of it: We spent about 30 to 45 minutes walking through the self guided tour with two kids. We were able to read all the historical signs, see the large cave formations and enjoy the cave. We would recommend the self guided tour if you're the kind of folks that like to do your own thing.
Upon exiting, you have to walk through a bio security area that contains a soapy substance in a rubber foam mat. This helps the white nose syndrome disease from spreading to other areas outside of the cave. All you do is walk across a rubber mat near the exit to clean your shoes.
Here's a quick video I took while entering the main entrance of Mammoth Cave:
Other things to do near Mammoth Cave
Touring Mammoth Cave is definitely the main attraction but there are plenty of other things to do around the area and in the park. Whether you are around the area for just a few hours or sticking around the whole weekend, the Cave City area has something for everyone.
Mammoth Cave Hiking Trails
There are plenty of hiking trails around Mammoth Cave and throughout the park. If you have already toured the cave and want to take a few more steps, then check out all the trails Mammoth Cave National Park has to offer. We've been on Turnhole Bend before and it was a pretty easy trail for families.
Kangaroos in Kentucky? Yup, you heard that right. We've been to Kentucky Down Under a few different times and it's pretty fun. The kids love it. They have a zoo with reptiles, birds and other wildlife. There's a petting zoo with goats. And you can even pet and feed the large kangaroos and emus. Recommended if you are in the area.
Watermill Restaurant
If you are a buffet kind of person, then check out Watermill. It's somewhat in a run down building and definitely needs some repairs, but the buffet inside had some decent selections and amazing peach cobbler. The buffet was only $10.95 for an adult. Hard to beat that price. If you can get past the outdated inside that needs repair, then Watermill is a pretty good place if you're needing food in the Mammoth Cave area.
Dinosaur World
If you've ever traveled down I-65, you've seen the giant dinosaur replicas in Cave City. Dinosaur World is a kid friendly attraction that offers life size replicas of dinosaurs. It's just a short drive from Mammoth Cave. You can dig for fossils and see the 20 different species of dinosaurs. Dinosaur World is a must see attraction near Mammoth Cave.
Conclusion
Mammoth Cave is Kentucky's only national park and for good reason. The cave is an impressive sight to see.
If you are traveling to Mammoth Cave or the south central Kentucky area, I hope this Mammoth Cave travel guide helped you.