Land Between the Lakes is an outdoor lovers paradise located in Western Kentucky and Northwest Tennessee. It covers approximately 171,000 acres of land and is one of my favorite areas of Kentucky.
From fishing to camping, hiking to wildlife viewing, Land Between the Lakes offers something for everyone in the family to enjoy.
Sitting between Lake Barkley and Kentucky Lake, this 40 mile strip of land is home to many types of wildlife, attractions and trails.
In this guide, we'll look at how to make the most of your adventure to Land Between the Lakes national recreation area.
Table of Contents
I lived in Eddyville for about 15 years and visited Land Between the Lakes (LBL) a lot. I've camped there, fished there and experienced many of the different outdoor recreation activities it has to offer.
Here are some of my top recommendations on things to do while visiting Land Between the Lakes:
See the bison and elk
One of my favorite things to do in LBL is driving through the Elk and Bison Prairie, a 700 acre native grassland prairie just the way it was 100 years ago, that offers an up close view of the elk and bison.
The prairie has a 3.5 mile paved road that loops around the whole habitat where you can see the elk and bison as well as many different animal species like birds, wild turkey, small game and more.
The best time to visit is during the early morning or late afternoon hours, this is when the bison and elk come out when the temperature is not as hot.
If you don't have any luck seeing them, there's another herd of bison close to the Homeplace 1800s you could check out. I haven't been to that one since I was a little kid, but they still have the bison there.
Elk & Bison Prairie Road, Golden Pond, KY 42211
Camp at Hillman Ferry
One of my favorite campgrounds in Land Between the Lakes is Hillman Ferry. It's on the north end of LBL not far from Grand Rivers.
My dad took me and my sister there camping when I was a kid and I've been a few times since then with Kaci. I hope to take our boys at some point.
There's plenty to do at Hillman Ferry – biking, fishing, boating, swimming, archery range, anything outdoors. the campground offers over 300 spots for both tents and RVs.
For more about camping at Hillman Ferry, check out the official site – https://landbetweenthelakes.us/seendo/camping/hillman-ferry-campground/
820 Hillman Ferry Road Grand Rivers, KY 42045
Eat at Patti's
Located on the north end of LBL in Grand Rivers, Patti's is the best restaurant in Grand Rivers. They are known for serving a delicious 2″ pork chop in the small town of 350 people, offering southern hospitality and comfort food.
People travel from all over the world to Patti's each year coming to see the beautiful garden, Christmas lights, play a game of mini golf and enjoy a pork chop and baked bread in a clay pot.
I've been to Patti's many times over the years and it's always consistent and tastes great. The main location can get very packed, especially on weekends. My recommendation is to try out Bill's right next door. You can order off the same menu as Patti's, just less of a wait.
If you are in the Grand Rivers area and want some mouth watering comfort food, Patti's is the place to be.
1793 J H O'Bryan Ave, Grand Rivers, KY 42045
Homeplace 1850s
I haven't been to the Homeplace since I was about 6 years old and vaguely remember what I saw. However, I do have a photo of me standing along the fence row with the herd of bison in the background.
The Homeplace 1850s is a working farm where actors are dressed in authentic clothing from the 1850s. They skillfully reenacted daily chores and make the past come alive.
You can explore old houses, barns, farms and artifacts as they were over a century ago. There's also livestock on site, with some of them being endangered breeds.
The Homeplace is a must visit for history enthusiasts and anyone in the LBL area. It's definitely a sight to see.
4512 The Trace, Dover, TN 37058
Golden Pond Planetarium
A must see for everyone, especially solar system and astronomer enthusiasts. The Golden Pond Planetarium includes a variety of informational and educational activities.
They have a huge 40 ft dome that broadcasts 2K high resolution films and pictures. A lot of schools bring students to Golden Pond for field trips. That was where I was first introduced to the planetarium.
They have a live presentation that offers an educational view of the world's stars, planets and constellations. Shows are offered daily.
For more information, visit the website – https://landbetweenthelakes.us/seendo/attractions/planetarium/
238 Visitor Center Drive, Golden Pond, KY 42211
Woodlands Nature Center
If you're interested in wildlife and want to see the local and native animals that we have here in Kentucky, then the Woodlands Nature Center is where you'll want to be.
The nature center has specialists on staff that know all the facts about the animals in the exhibits.
This is a perfect place to bring the kids and let them enjoy looking at nature and wildlife.
3146 Silver Trail Road, Cadiz, KY 42211
Visit Lake Barkley Lodge State Resort Park
Another one of my favorite places to visit near LBL is the Lake Barkley State Resort Park. Although I have never stayed at the park, I've eaten there many times over the years. However, I do plan on staying there soon.
The reason I go to the Lodge is to eat the buffet at Windows on the Water restaurant and see the amazing architecture of the building. They typically different items on the menu each day with catfish on Fridays.
The building is a timber and beam structure built right on the lake front offers gorgeous views of Lake Barkley.
The park offers cottages, hiking, boating, fishing, golf course, swimming and more.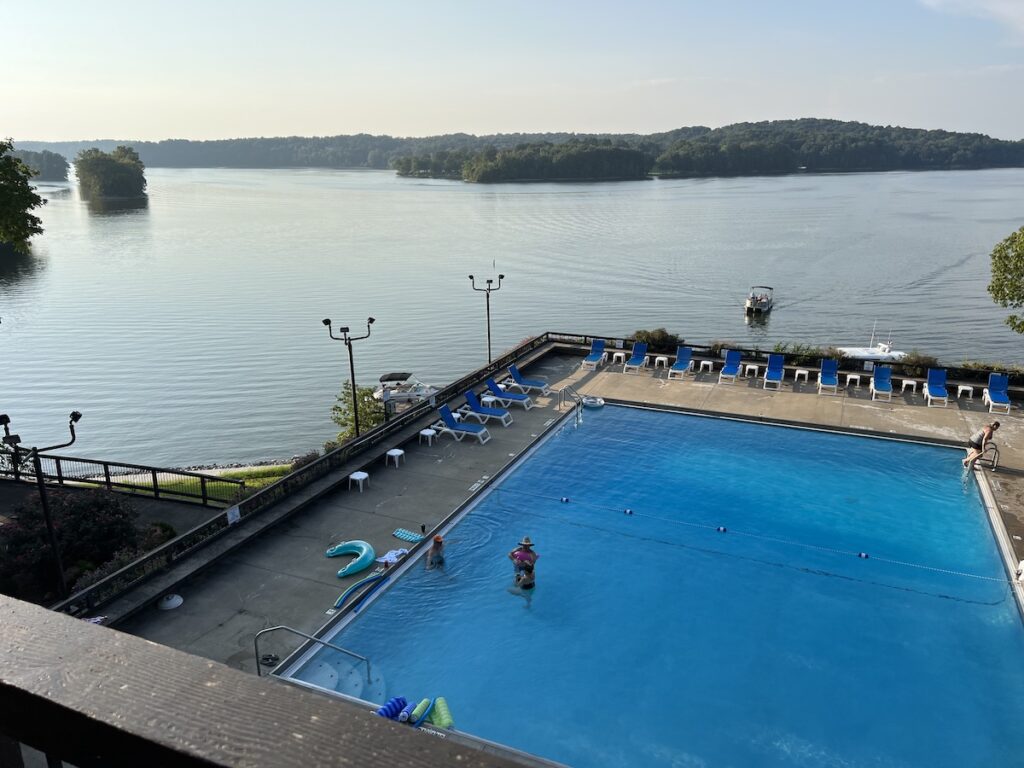 If you need a place to stay in Land Between the Lakes or want to eat southern cooking in the area, then check out the Barkley Lodge & State Park.
For more information and reservations – https://parks.ky.gov/cadiz/parks/resort/lake-barkley-state-resort-park
3500 State Park Rd. Cadiz, KY 42211
Conclusion
That rounds out my list of things to do in Land Between the Lakes. The whole lakes area offers a wide range of outdoor recreation for families of all ages and interests.
See also nearby Eddyville where you can go to the water park, eat fried catfish at Willow Pond and visit the state's maximum security prison:
Is there anything I missed on the list? What are you favorite things to do in LBL?