Henderson is a medium-sized river town located in Western Kentucky along the banks of the Ohio River. Kaci and I had a free afternoon so we decided to make the drive over from Owensboro and check out all that Henderson has to offer.
I'm a fan of historic downtowns, especially those along the river. They are unique and have a lot of history.
While in town we stopped at the Henderson Tourist Commission to see what the city had to offer. Abby and the crew had a lot of suggestions for us while we were in town.
Although we did not have a ton of time, we did hit up a few hot spots that we would recommend.
Let's get started on our Henderson Kentucky travel guide.
Things to do in Henderson Kentucky
John James Audubon State Park
It would not be a trip to Henderson if you didn't stop by the beautiful John James Audubon State Park. The park grounds were very clean and kept nicely. Shout out to Kentucky State Parks for keeping all our state parks nice and clean!
The highlight of the park is the beautiful architecture of the museum and nature center. The historic stone building built in 1938 looks like something from a children's book. It's beautiful.
If you are into birding, then you are in luck. There are over 150 species of birds in the 720+ acre park where you can see multiple woodpecker species, wild turkey, bald eagles and blue herons.
There's a 24-acre lake on site that offers fishing for blue gill, catfish and bass. Other things to do include hiking, camping, biking and other outdoor recreation.
3100 US Hwy 41, Henderson, KY 42420
Riverfront park
As I've said before, river towns are a favorite of mine and Henderson has an amazing view along the mighty Ohio River.
During our short trip, we didn't get a chance to see the American Queen parked, but the riverfront park area is still a beautiful place to be.
There are many different areas and points of interest along the Henderson river front but close to downtown were Audubon Park and Sunset Park.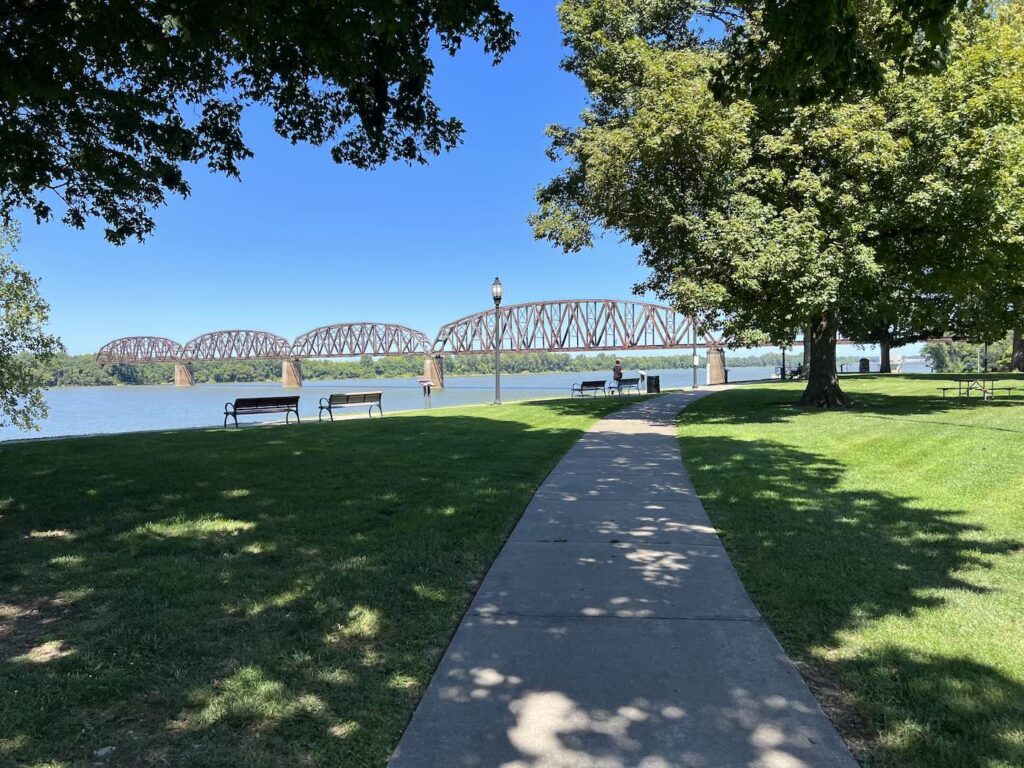 If you're looking for a shady area to sit down, eat your lunch and enjoy the barges cruise down the river, then Audubon Park is where you'll want to be. See the old historic L&N caboose sitting along the river behind the tourist commission and art gallery.
Sunset Park is where you'll want to be to let the kids play on the large playground equipment. Between the two parks is the splash pad for kids to cool off in the summer heat and humidity.
123 N Water St, Henderson, KY 42420
Historic downtown
The city and downtown partnership has done a tremendous job on revitalizing the downtown area and preserving the unique architecture and character of downtown.
All types of events are planned to create an exciting downtown atmosphere including the Fall Market on Main and chili cook off, dinner on the river, porchfest and all kinds of different events throughout the year.
There are many different boutiques, restaurants, businesses and shopping available downtown on each of the historic streets.
During our visit, it was a weekday during business hours. The city streets were alive and people were enjoying their time being in the downtown area. Props to the city, downtown partnership and tourist commission for promoting and revitalizing the beautiful downtown district.
Main Street, Henderson Kentucky 42420
Butlers apothecary
One unique place on historic Main Street downtown is Butlers Apothecary. They are your local Henderson pharmacy.
Now why should you visit a pharmacy while in town? They also serve old-fashioned soda drinks as well as ice cream.
Soda fountains became a thing in the 1850s when pharmacies would serve up fountain drinks to cure physical ailments such as headaches or other pain. They then began to add ice cream to their pharmacies and so the trend began. It has since phased out but it's cool to see some pharmacies still have the old fashion fountains and ice cream around.
While Kaci went across the street to get coffee, I jumped over to Butlers to grab some ice cream on a hot summer afternoon. Check them out if you need a little sweet scoop of ice cream.
213 N Main St, Henderson, KY 42420
Tacoholics
On lunch, we decided to check out Tacoholics due to all the reviews. I wanted to give Thomasons a try but this was nearby downtown and we were running short on time.
I'm a fan of chimichangas. It's about the only thing I will get at a Mexican restaurant. So I have quite a keen sense of taste when it comes to taste-testing chimichangas.
I will have to say Tacoholics ranks very high on the list of chimichangas in my books.
The restaurant is located downtown and offers both indoor and outdoor seating. If you're in the mood for Mexican and in the downtown or riverfront area, then check out Tacoholics to get your Mexican craving.
122 1st St, Henderson, KY 42420
Antler Specialty Goods
If you need an afternoon pick-me-up or a fresh morning brewed coffee, then check out Antler Specialty Goods.
From what I can tell, they are a relatively new coffee shop in Henderson, having started in the Wisconsin area, and just opened their doors in the last couple of years.
They offer a wide variety of specialty coffee with unique flavors. Even some spicy coffee. They strive to pick out the highest quality and origin of coffee beans, which makes a difference in the flavor and taste of your coffee.
As I was getting ice cream across the street, Kaci was in Antler picking up…..some spicy coffee? She agreed it was delicious.
212 N Main St, Henderson, KY 42420
Places to eat in Henderson
Hometown Roots – a locally owned restaurant offering down home southern comfort food
Thomason's BBQ – cooking mouth watering BBQ since the 60s
Rockhouse on the River – known for thin crust pizzas, sandwiches and a beautiful view of the Ohio River.
Henderson Brewing Company – locally crafted beers
The other thing we were recommended to do but did not have time to visit The Farmer and the Frenchman Winery & Cafe. It's a local vineyard and cafe in Henderson County offering European style food such as pizzas and pasta.
You can get more information about them at their website – https://farmerandfrenchman.com/
Here's our short video we put together from our day trip to Henderson:
Conclusion
Thank you to Abby and the Henderson Tourist Commission for your recommendations and our talk about the amazing things the city has to offer. We wish we had more time to visit and see a few more things.
This list highlights the things we did during our stay as well as a few more that were recommended.
I hope this travel guide helped you find things to do in Henderson. Please share this on Pinterest to help others!