Rosine is a small rural town located on Hwy 62 East in Ohio County, Kentucky about 9 miles East of Beaver Dam. The population only has a little over one hundred folks in the whole town. But there is one thing that puts Rosine on the map. That's Bill Monroe and Bluegrass music.
Our trip through Rosine was a spontaneous one and in my opinion one of the best ways to travel and experience the state of Kentucky. We were actually in the area buying some laying hens from a local Ohio Countian nearby in Horse Branch when we passed through tiny Rosine.
So what is so special about Rosine and why are we recommending you take a drive through?
Keep on reading and we will tell you all about the history of Rosine and how Bluegrass music came to be…
Things to do and see in Rosine, Kentucky
History of Rosine
The town was previously called Pigeon's Roost and established in 1872. It apparently had large flocks of pigeons that used to live in the nearby cedar trees East of the community and that was the reason for the Pigeon's Roost name. The pigeons would be so numerous that the weight of them would break the branches.
On September 15, 1873, the town changed it's named to Rosine in recognition of poet Jennie Taylor McHenry who would always use the pen name Rosine. McHenry was from Hartford, Kentucky and wrote a book of beautiful poetry titled Forget Me Not in 1867.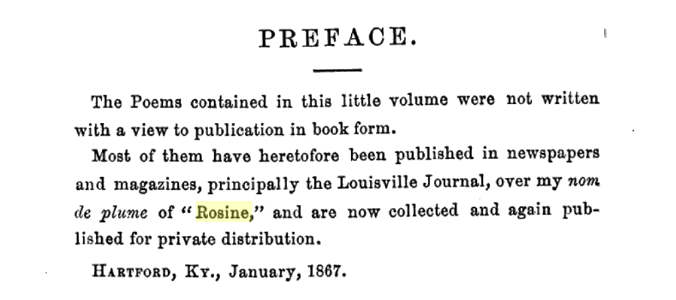 In the 1880s, Rosine was a booming small town on the Elizabethtown & Paducah Railroad (Now renamed Paducah & Louisville Railroad). It had three dry goods shops, a very good millwright and lumber business, two drug stores with all the whiskies and brandies, a blacksmith and several other businesses. The town had about 60-70 people at the time.
When the 1990s came around, Rosine was no longer the thriving community it used to be. However, it is still known for one thing. And that is Bill Monroe and Bluegrass music.
Bill Monroe and Bluegrass Music
Rosine is home to Bill Monroe, the Father of Bluegrass Music, who was born and raised south of the town on Jerusalem Ridge in a log cabin. The Monroe Homeplace burnt down in 1912 and was rebuilt five years later with a wood frame around the chimney that still stands today. The Bill Monroe Foundation still holds the Jerusalem Ridge Festival every year at the Homeplace where he lived.
The Monroe's were hard working folks and took great care of their approximately 800 acre farm. They raised cattle and hogs and cut timber to sell for railroad ties and utility poles.
Bill Monroe's parents both died before he was 16 and he lived with his Uncle Pen in a cabin nearby. This is where Monroe fell in love with music and the fiddle. He began forming bands with his friends and eventually worked his way up the the Grand Ole Opry.
Bill Monroe died on September 9, 1996. He is buried in the Rosine Cemetery next to his mother and father.
The Homeplace underwent a $3 million restoration in 2001 and has multiple belongings from the Monroe family. You can visit the Homeplace at 6210 U.S. Highway 62 East, Rosine, Kentucky Monday-Friday 9:00-4:00 during season. If you are a Bluegrass music fan, then a trip to the Monroe Homeplace and Rosine is a must.
Bill Monroe Museum
The Bill Monroe museum opened in 2018 and has been a huge tourist attraction for the town of Rosine and Ohio County. Visitors come from all over the world to visit and pay tribute to Bill Monroe, the Father of Bluegrass Music.
Inside the museum, you can see items donated by family including antique furniture, clothing, albums and more. You can see most of them items in just an hour on the self guided tour. There's someone on staff that is very knowledgeable about the Monroe family and the history of Bluegrass music.
The Bill Monroe Museum is a must see place for any Bluegrass fan and highly recommended if coming to the area.
The museum is located at 55 Amelia St, Rosine, KY. There is a huge parking lot and lots of space to walk and move around.
Everett Park and Campground
Next to the museum is Everett park and campground located at 22 Amelia Street, Rosine, Kentucky. It has a walking trail, park playground and campground.
There are 7 camping and RV sites available. Water and electric hookups are available. If you are planning on visiting the Bill Monroe Museum and Homeplace, then you can bring your camper and stay right next to the museum.
Rosine Barn Jamboree
If you drive through Rosine on a Friday night between April and mid-December, then you might just hear some live Bluegrass music at the Rosine Barn Jamboree.
It wasn't a Friday night when we drove through, but you can tell that Bluegrass is still very much alive in this little town.
Admission is free to the barn to listen to live Bluegrass music. There are usually food trucks serving food starting at 5:30pm. Live music begins at 6pm.
You can visit the Rosine Barn at 8225 Hwy 62 East, Rosine, KY.
The Earp Family
One other famous person that was from the Rosine area was Virgil Earp and his family.
The Earp family settled in the area around Caney Creek in 1827 where they lived for about 20 years before moving to Illinois.
What makes the Earp family famous is brothers Virgil and Wyatt Earp were the leaders and lawmen that were part of the 30 second shootout at the O.K. Corral between the lawmen and outlaw Cowboys. The fight was on Wednesday, October 26, 1881 and lasted about 30 seconds. It took place in Tombstone, Arizona.
Both Virgil and Wyatt survived. It was one of the most famous shootouts in history.
Two months later, Virgil was ambushed by friends of the outlaws and shot in the back but survived.
Here is what the historical marker says about the Earp family:
The Earp family settled in Ohio  
County, Kentucky in 1827, where 
they stayed for 20 years. 
Nicholas Earp and Virginia Cooksey  
married in Hartford, Kentucky  
in 1840. While in Ohio County,  
Nicholas and Virginia farmed and  
had their first two sons, Virgil  
and James Earp. The Earps and  
their children moved to Illinois  
in 1845.  
Summary & Recap
I know I wrote a lot about the history of Rosine and maybe you were looking for something else. But there's a lot of history in this small rural town. So to recap, I wanted to finish with the quick list of places to visit when you are traveling to Rosine:
Bill Monroe Homeplace
Bill Monroe Museum
Rosine Barn Jamboree
Uncle Pens Cabin
You can easily see why Rosine is on the map and why tourists from around the world visit the small rural town annually.
If you are a Bill Monroe or Bluegrass music fan, then it's definitely worth stopping. Even if you are just looking to explore some of the many small towns of Kentucky, I'd recommend checking out Rosine, right off Hwy 62 in Ohio County.